Do you know your Referrals from your Redemptions? Or your Flashes from your Features? 🤔
It's time to find out!
We throw a lot of terms around here at Airtime (or Air-terms as we like to call them), so we understand it can get a little confusing knowing what everything means. To help, we've rounded up all of the Air-terms we can think of into one big list.
Here's your full lowdown on the lingo...
Challenges
Challenges are a digital stamp card with a twist to help you unlock more rewards each month.
To complete a challenge, you'll need to collect stamps by making purchases at the retailers specified on the stamp card. 
Once you have collected all your stamps and all of your purchases are complete you will unlock the bounty and earn a bonus!
Visit your wallet in the app now to opt in to this month's challenge.
Read more about challenges here.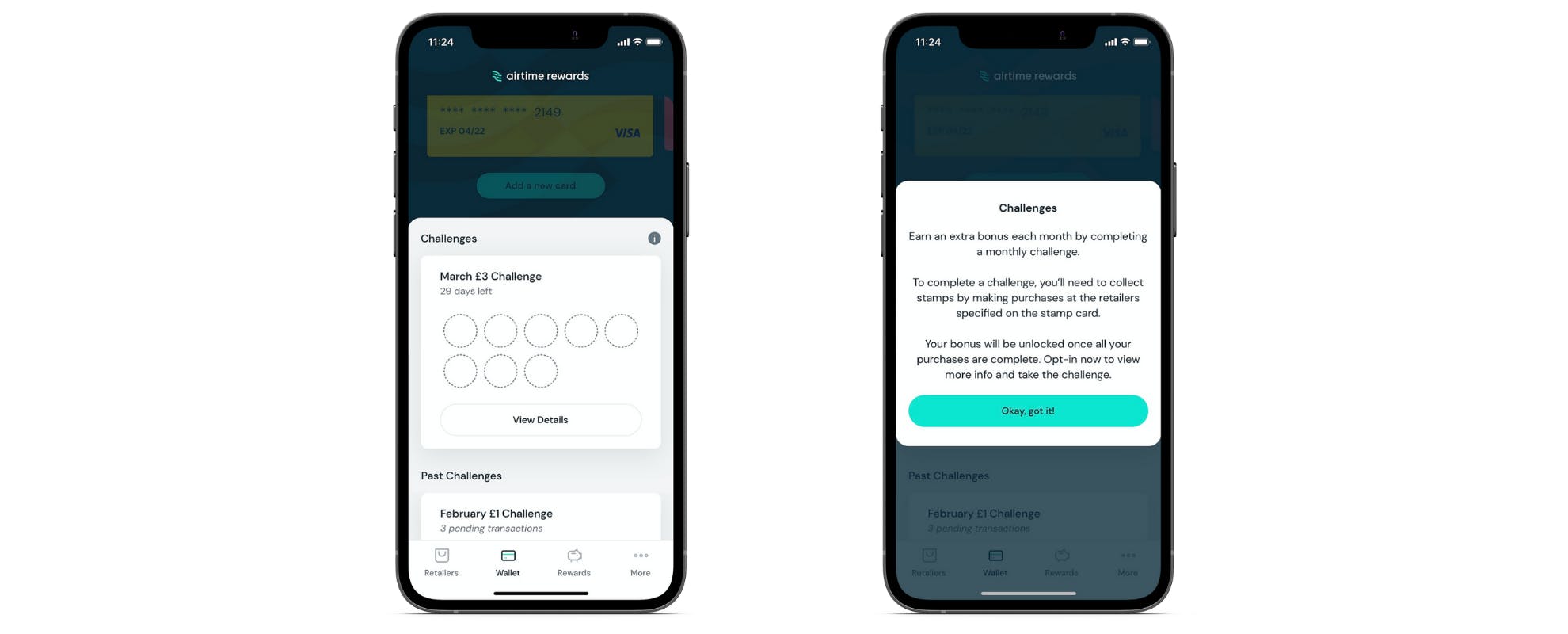 Share & Earn
Share & Earn is our friend referral scheme! 
Get £1.50 for everyone you refer to Airtime Rewards with your unique referral code which can be found on our shiny new Share & Earn page in the app. You'll earn 50p when your friend joins and you'll both earn an additional £1 if your friend spends within 7 days. 
So, what are you waiting for? Start referring now to maximise your earning!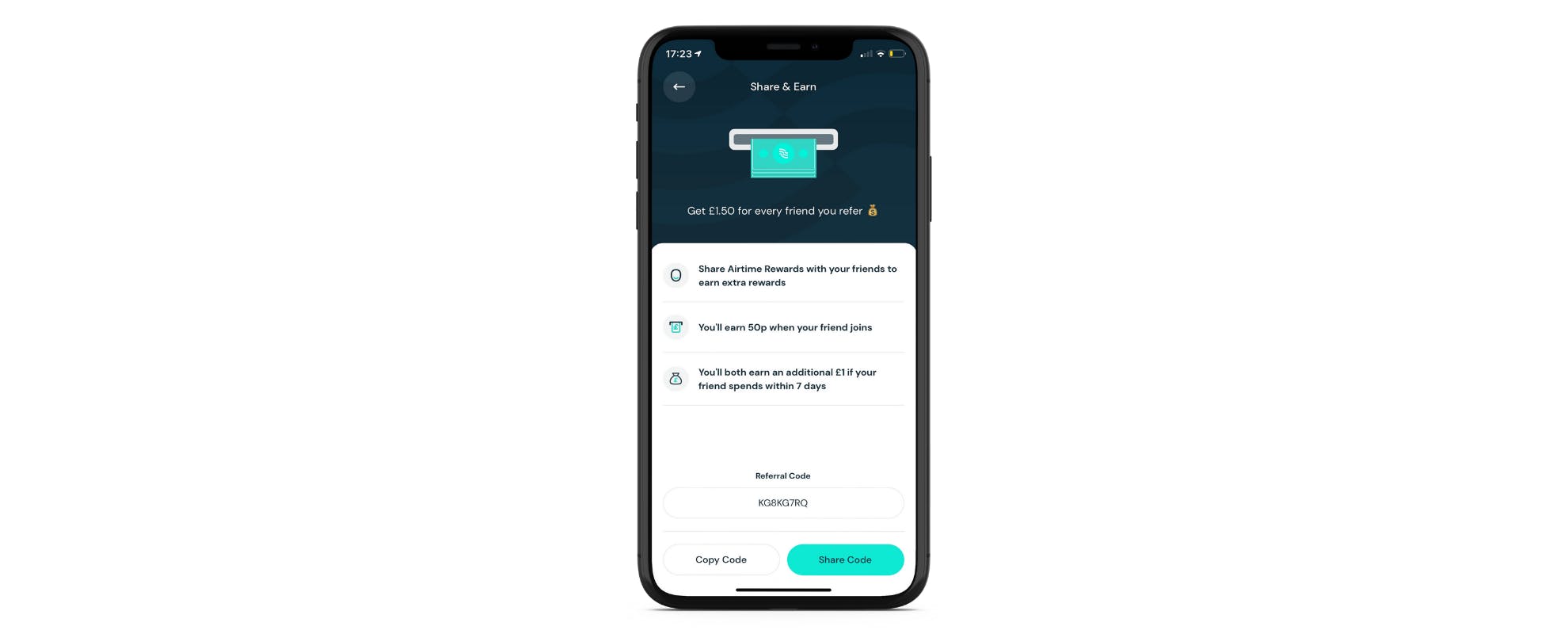 Surge Referral 
A Surge Referral is a boosted referral bonus which only lasts for a limited time. And if you're lucky, you could get up to £100 for referring a friend! 
Make sure you've turned your push notifications on so you don't miss out on the extra rewards (hint: look out for the ⚡️ emoji).
Rewards Flash
A Rewards Flash is when we increase the rewards of a retailer for a short period of time.
Hint: Rewards Flashes are normally at weekends so keep an eye out for 🚀 emoji in push notifications, marketing emails and on the app. We'd hate for you to miss out on extra rewards!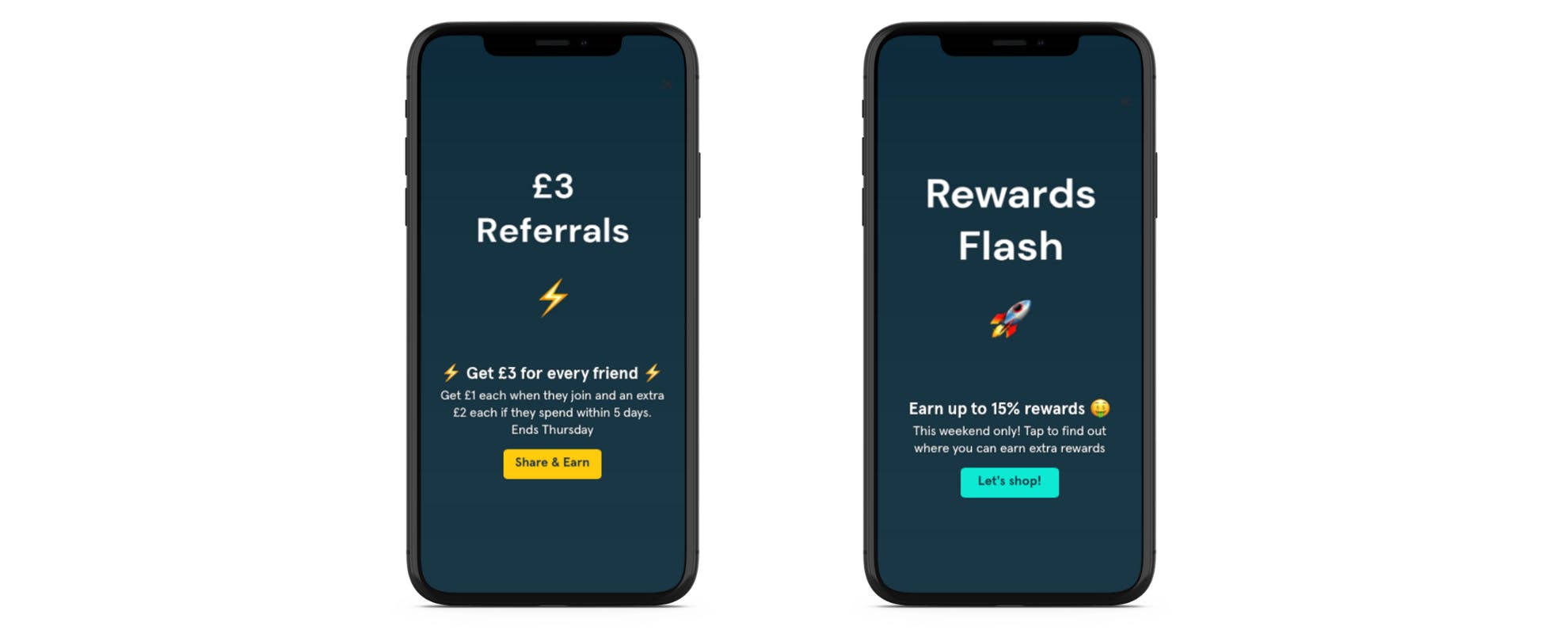 Mystery Bonus
Are you feeling lucky? 🔮
Well then, Mystery Bonuses are the perfect thing for you! 
Keep an eye out for Mystery Referrals and Mystery Spend Bonuses in your inbox. If you complete the task (e.g. refer a friend), you'll receive a Mystery Bonus between £1 and £100 (and sometimes up to £500!).
Category Interests 
We've handily organised all of our retailers into categories to help you find the ones most relevant to you. 
You can select your favourite categories and they will appear on your home screen.  Plus, you'll get offers and marketing communications that are more relevant to you (we know that not everyone is as beauty obsessed as us...).
Choose from a selection of categories including: 
Home
Beauty
Food & Drink
Fashion
Travel
Go to the retailers pages in your app to select your categories.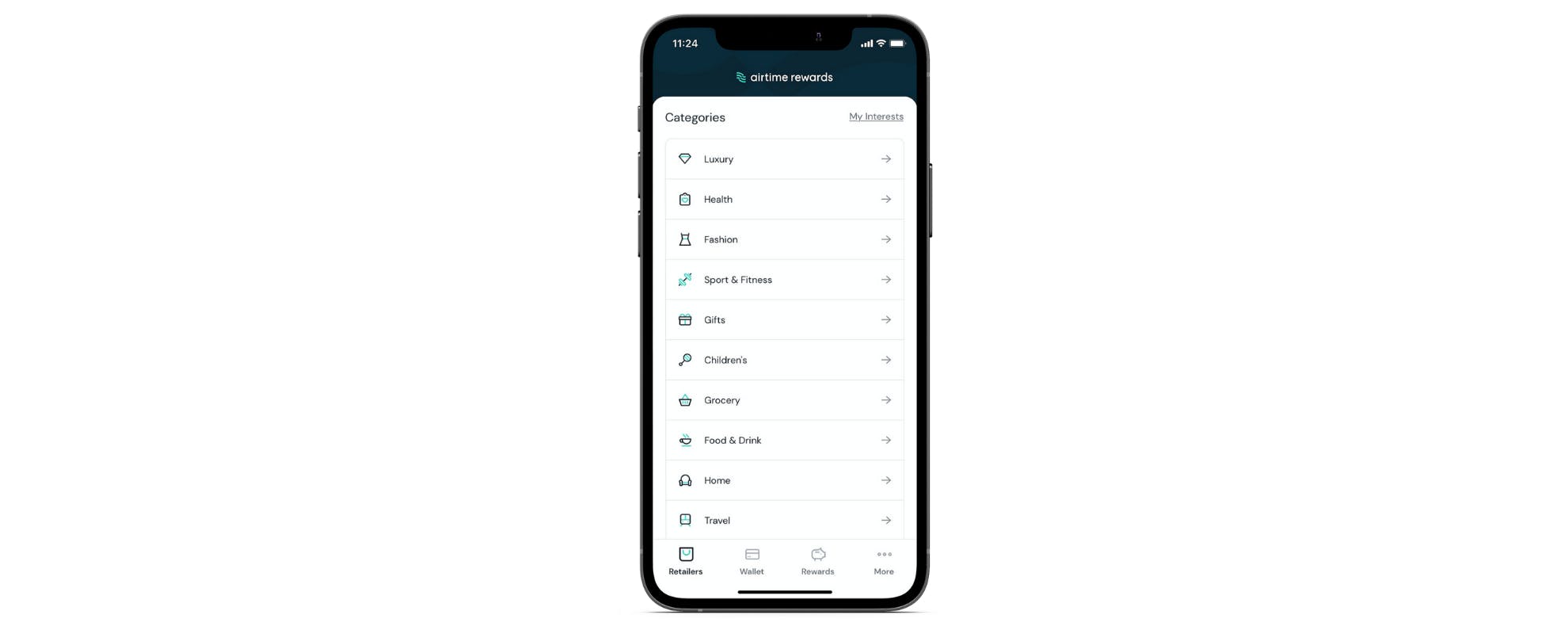 Feature
A new feature is an addition to the app to help you have a smoother experience and earn even more rewards. 
Even the smallest features can make a massive difference, so make sure your app is up to date so you don't miss out on their benefits. Check out our latest features here.
We also have some more hidden features within the app. Think you can guess them?
Test out your app feature knowledge here.
Wallet
No, not your Apple Wallet or Google Pay…
The Airtime Wallet is located in the app and is where your cards are stored and where you can add a new card (hint: more cards = more rewards 🤑). And did you know that you can now customise your cards?
The Wallet is also home to Challenges. Opt in to the monthly challenge and keep track of your stamp card progress there.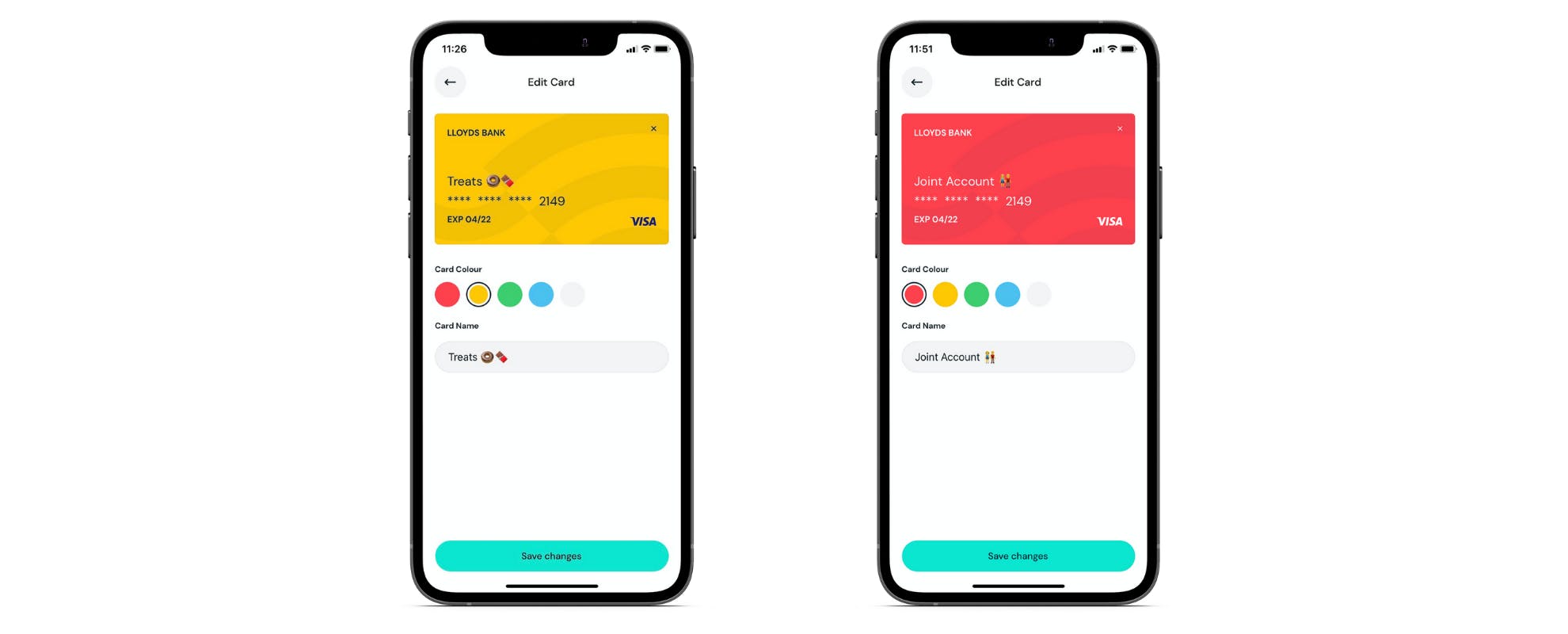 Retailer Favourites 
Never lose track of your favourite retailer's offers again! Simply click the heart icon on your top picks and they'll appear on your homescreen in their own category.
You'll also get offers and marketing communications that are more relevant to you (you don't want to miss a Rewards Flash on your favourite retailer now do you 👀).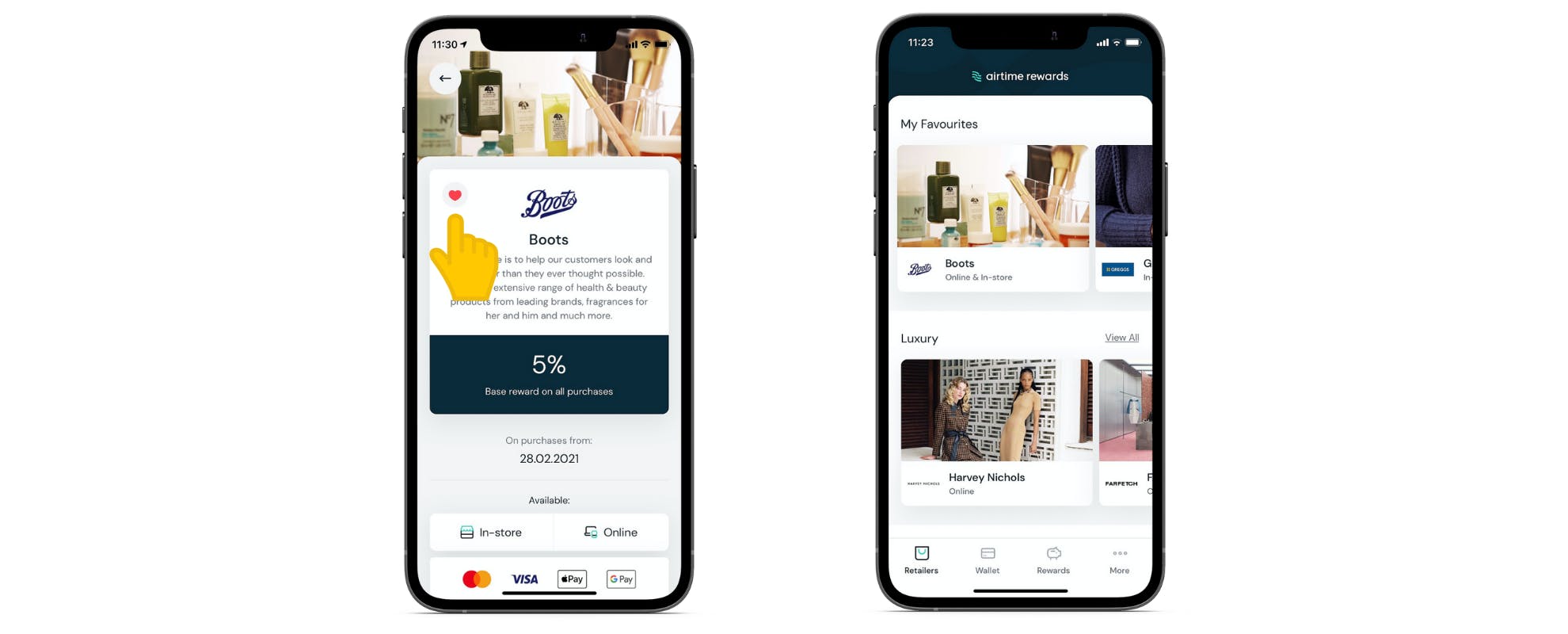 Promo Code
If you're lucky, you might receive a Promo Code to get a bonus in your inbox or see one on our Twitter, Facebook or Instagram. 
Enter it into the Promo Code section of the app under promotions and if successful, you'll get the Active Promotion tile on your home screen. Complete the action on the tile by the date given and you'll receive a bonus.
Hint: You'll need to be quick as the promo codes are capped!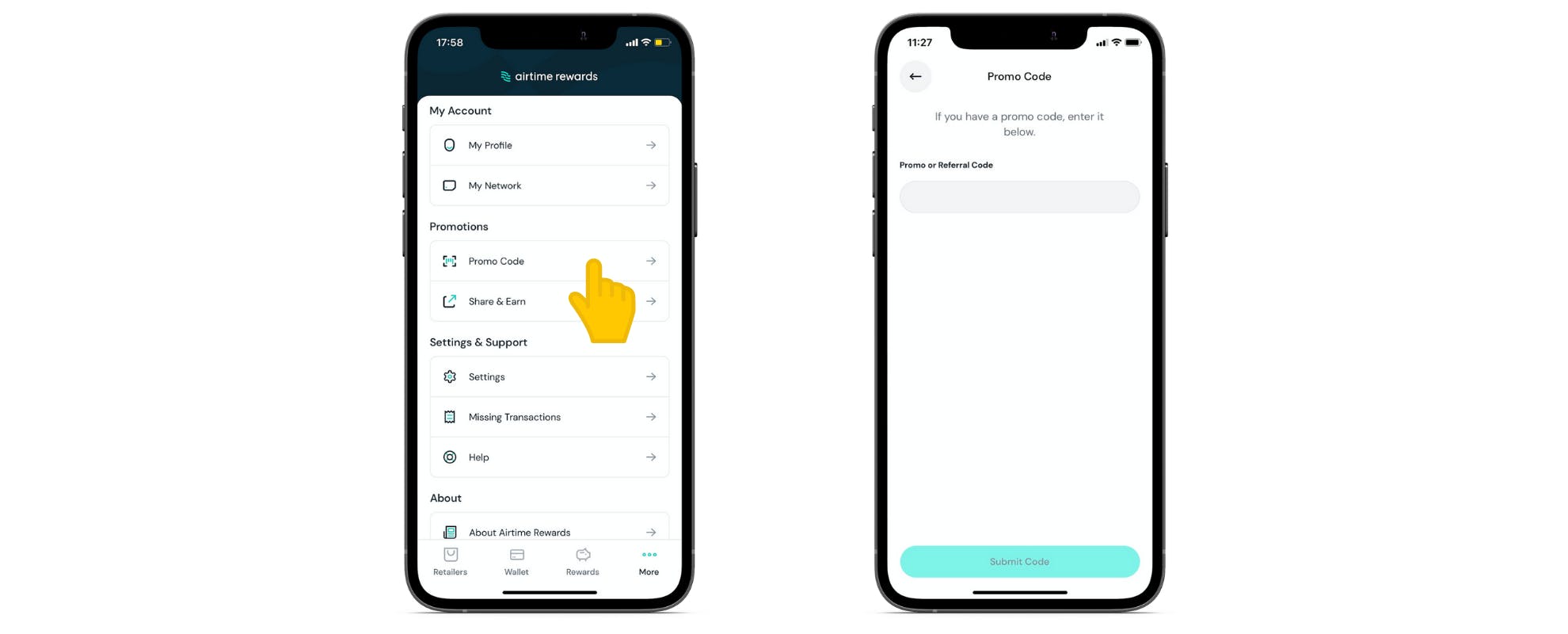 Redemption
Redemption is when you can finally redeem your rewards from your account to take money off your mobile bill. To complete your redemption, click the Redeem button in the rewards section of the app and select the amount you would like to redeem.
And voila! Hello, cheap phone bill.
Note: You need to meet your network's redemption threshold to be able to redeem rewards.
Current balance
Your current balance is the amount of rewards that are currently redeemable in your account (i.e. your transactions that have completed but have not yet been redeemed).
Total Earned
The total amount of rewards you've earned on complete transactions including your redeemed rewards. How much have you earned so far?
Pending balance
Your pending balance is the total amount of rewards that haven't yet completed. Check the pending period underneath each transaction to see how long you have left to wait.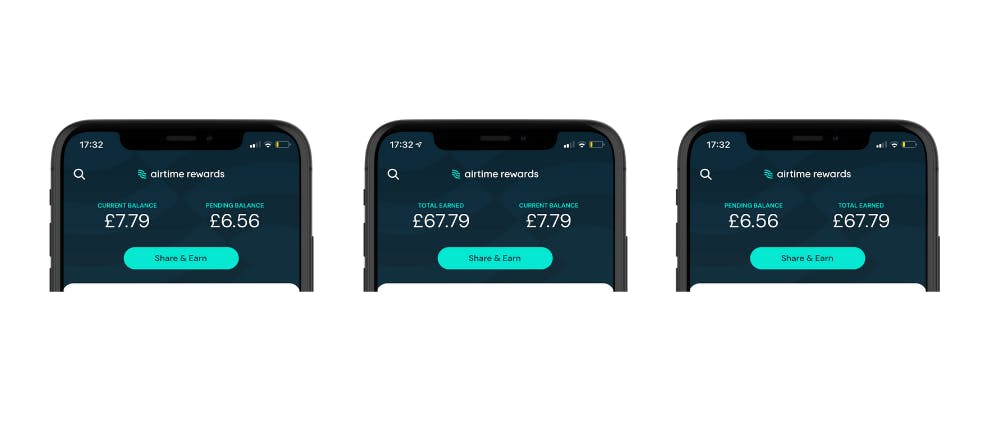 Pending period 
The pending period is the amount of time between your purchase being tracked and the reward completing.
Click on your transactions to view how long you have left until your reward is complete and available for redemption. We'll notify you via push notification when it's complete.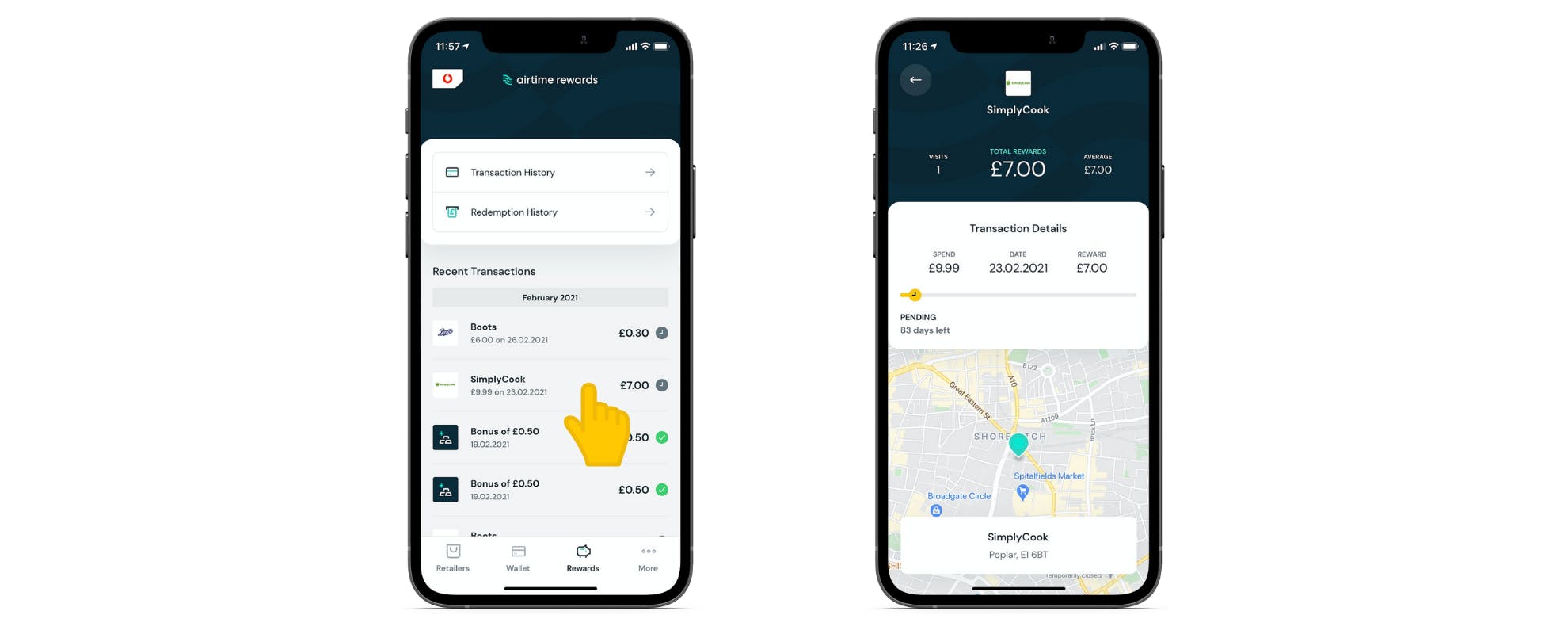 Transaction history
Your transaction history is a record of all of the purchases you've ever made with an Airtime retailer. Find it within the Rewards section of the app.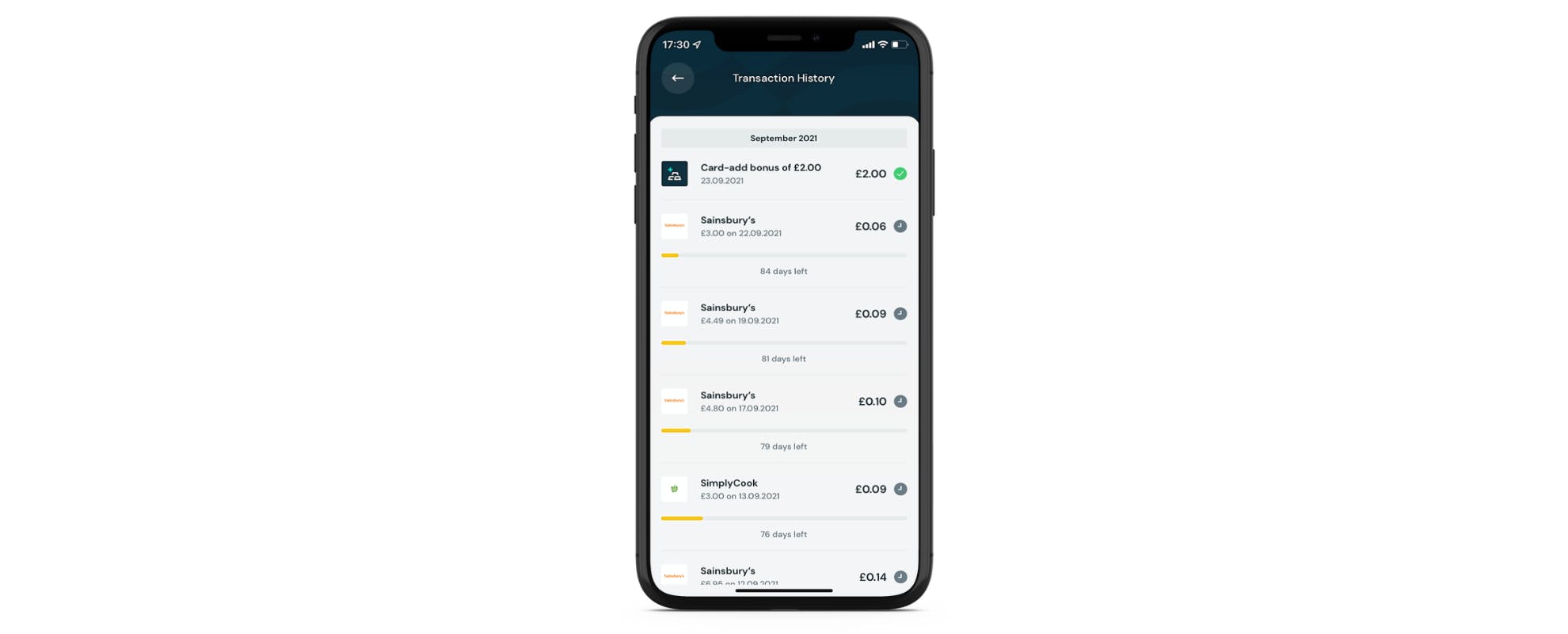 Have we missed any out?
Let us know on Twitter, Facebook or Instagram and give us a follow/like whilst you're there 😉.